Mixed Magic Theatre was founded by Bernadet and Ricardo Pitts-Wiley in 2000. Yale alum Jonathan Pits-Wiley was named Artistic Director in 2009. The company works out of a former fabric mill in Pawtucket, Rhode Island that has houses two indoor venues and an art gallery. For six months each year the company presents plays and dance and music concerts at its fully equipped Mixed Amphitheater.
The creed the company has always been "First think diverse." We wanted inclusion to be a priority instead of an afterthought as is too often the case in the contemporary American theatre. The company's mission statement is To build more literate and arts-active communities by presenting a diversity of ideas and images on stage, and use the theatre and its related arts forms to tell great stories from America and around the world."
Mixed Magic would not embrace the idea of "colorblind casting" as the concept, while its intent may be good, marginalizes the living reality and histories of Black and Brown performers, experiences that we factor into everything that we do.
Mixed Magic Theatre was founded not a community theatre, but as a theatre in the community. As Jonathan Pitts-Wiley often says, we must tell the stories of the people in the seats.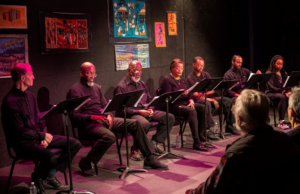 While Mixed Magic Theatre has done a wide range of contemporary and classic works including critically acclaimed productions of plays by August Wilson, Stephen Adly Gurgis, William Shakespeare, Yasmina Reza, Edward Albee, Zora Neal Hurston, Maya Angelou, Douglas Turner Ward, Alfred Uhry, Amiri Baraka, Charles Smith, Ntozake Shange, However we are best known for our development and staging of adaptations of novels and classic literature including Moby Dick, Frankenstein, Don Quixote, The Red Tent, The Narratives of the Life of Frederick Douglass and the life and poems of Paul Laurence Dunbar. The company has also developed plays and musicals about iconic African Americans including Mahalia Jackson, (When Mahalia Sings), Bessie Smith, (Waiting for Bessie Smith) and dramatizations of two of Martin Luther King's most important letters and speeches, Letter from Birmingham City Jail and Beyond Vietnam).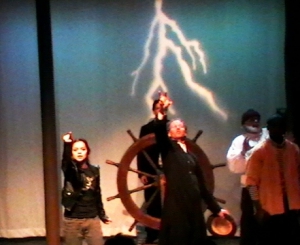 Our 2007 production of Moby Dick, titled Moby Dick: Then and Now, told the traditional Herman Melville story of the misadventures of Capt. Ahab and his crew juxtaposed with a contemporary vengeance quest of an inner-city crew, involved in the drug trade. They are led by Alba, a young woman who has lost her brother to White Thing, the drug lord she works for.
The development of Moby Dick: Then and Now, which was adapted for the stage and directed by Ricardo Pitts-Wiley, was chronicled by the New Media Literacies Project at MIT. The project explored how pop culture, technology, media influence, language and issues of race and economics can be used to help young readers access the epic novel and encourage established readers to reexamine the novel.
The production played to audiences in Rhode Island, The New Bedford Whaling Museum, MIT, The University of Southern California and the Kennedy Center for the Performing Arts in Washington, DC. Additionally, Ricardo Pitts-Wiley was a featured speaker at the 2008 Melville/Conrad Conference in Poland. And visiting scholar at MIT and USC.
Moby Dick: Then and Now has been the subject of numerous media publications and a book titled Reading in a Participatory Culture: Remixing Moby Dick in the English Classroom.
In 2008 Mixed Magic Theatre formed its renowned Exult Choir to preserve traditional gospel music and to explore and demonstrate its impact on music, human rights movements, and cultures throughout the world. The choir, under the direction of Kim Pitts-Wiley presents 3 to 4 major concerts per year. The themed concerts feature a variety of musical styles from hymns and spirituals to Hip-Hop and, Soul to reworks of Pop favorites.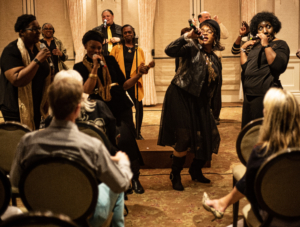 Co-Founder Bernadet Pitts-Wiley's love of poetry has meant that Mixed Magic Theatre is deeply committed to that art form and its creators. Several times a year the company presents programs that "lift the language off the page and charge it with passion and understanding." These programs support emerging artists as well as the celebration of well-known poets.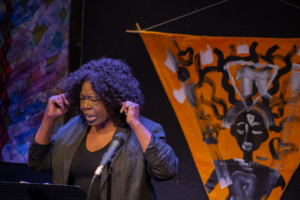 Mixed Magic Theatre will always honor and preserve the living arts, but we are also incorporating new technology and media into our work to keep pace with changing social demographics.
Mixed Magic Theatre prides itself on creating welcoming environment for artists to develops their skills and to be a part of the world. We believe that art and artistic expression is as vital to human well-being as food, water, clothing, and shelter. The work we do feeds the spirit and soul as it stimulates and feeds the need for information and entertainment. Mixed Magic Theatre, born out of the Black-American experience, understands that it is not just in the business of shows, but the lifesaving business too.